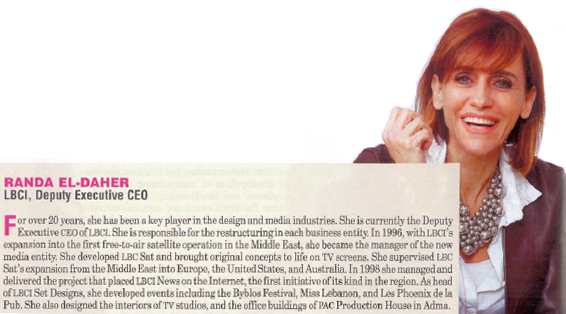 For over 20 years, she has been a key player in the design and media industries, she is currently the Deputy CEO of LBCI.
She is responsible for restructuring in each business entity.
In 1996, with LBCI's expansion into the first free-to-air satellite operation in the Middle East, she became the manager of the new media entity.
She developed LBC Sat and brought original concepts to life on TV screens. She supervised LBC Sat's expansion in the Middle East into Europe, the United States and Australia.
In 1998 she managed and delivered the project that placed LBCI News on the Internet, the first initiative of its kind in the region. As the head of LBCI Set Design, she developed events including the Byblos Festival, Miss Lebanon and Les Phoenix de la pub. She also designed the interiors of TV studios, and the office building of PAC Production House in Adma.