You're a very private figure. Can you tell us about your background?
I went to study in the US when I was 16 and a half years old, which was a daring decision for the eldest of a family of four girls. This is when I consider I started creating my own path and not following anyone's. I graduated in interior design, although I had started in architecture. In 1983, I started working on my own on some interior design projects in Lebanon.

Early in 1985, I met Pierre through common friends, and soon he asked me join him in his LBC adventure. We got married in 1987, but in the meantime I had already started working with the station. I designed the studios and the premises of LBC. Such projects kept me going in my initial field while I was learning media, one step at a time.
A shift from interior design to media is quite unusual. How did it happen?
I was head of the set design department, then I went to London to undergo training on animation and 3D. Back in Lebanon and on top of set design I formed a graphics team and became in charge of the arts department. We created, among other things, the famous "break in/break out" concept, a terminology that everybody uses today but that we had come up with.

We also introduced the concept of special events, celebrating occasions that were non-popular in Lebanon at that time: Valentine's Day, Father's Day, Children's Day and so on.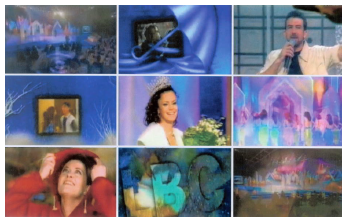 How did you get involved in management?
It was a long learning process, working with content, creating new concepts, understanding grid structure, getting acquainted with production and finance. In 1996, when LBC SAT was launched, I was offered the opportunity to head the channel, and I took it.
How has the fact that you are married to the group's head affected your work with the company?
It was the hardest part. People put you under so much pressure. It seems so hard for them to admit you are good without attributing your accomplishment to someone or something.

It's like there should always be a reason for success other than your own value. "She is the daughter of, the wife of, the mother of, the relative of…" That's probably why, when I left in 2005 and started working on my own, I felt liberated. For me, efficiency and deliverables were my best allies.
How would you describe your approach to work?
I'm a strong believer in creative and smart solutions in general (in television it should be smart programing). I believe in efficiency and productivity, in good and fair balance between the business interest and the interests of the people doing it, in evolution and not revolution (although it's sometimes needed), in good and clear communication and in achievements. Although I like dreamers, I love doers.
What do you mean by smart solutions?
Smart solutions come from thinking outside the box, be creative when identifying the ingredients for success at a low cost. This is valid for any business.

For example, LBC SAT was launched at a time when there was a massive regional audience for the Fawazir Ramandan (short daily variety shows including riddles (fawazir in Arabic) enacted in song and dance, mostly from Egypt.

For me, there was no need to buy these shows at a prohibitive price – we could do our own concept for LBC SAT and LBCI. It was "Tekhsar iza ma Btelaab (You lose if you don't play) in 1997, the first interactive game concept in the region. Instead of a live audience, people would call on the phone; all the country's phone lines were jammed during the program, which was a hit for several years.
Why did you leave the group in 2005?
I felt that the time had come for me to go my own way.

What did you do during this hiatus of almost four years, and what got you back onboard?

I established my own media consulting and implementation firm called RED MI (Media Intelligence). I insist on the implementation part of our work, as I don't want to restrict myself to mere analysis and advice – I believe in owning the study I make. Within a couple of months, I received a very challenging project in Lebanon that I declined for personal considerations. Soon after the company started getting clients across the Middle East, mainly ministries of information and media companies.

This recognition came as a surprise to me, and I must admit it was very rewarding because, although I'm a media person and a strong believer in marketing, I had chosen to remain in the shadows (while at LBC Group). I had no idea people outside the inner circle knew about me. Then, LBC Group called upon my service, which was also very rewarding.
Hadn't the group approached you as a client? Why did you return as part of the management?
It's not that simple. During all my time away, Pierre and I had been talking about the work beyond the usual level of discussion between a husband and a wife. So, in fact, I was still involved somehow.

In April 2009, Pierre officially asked me to do the restructuring of the two companies and I accepted because it was very challenging.

Pierre had been trying to restructure the stations for several years, calling on many foreign companies as well as professional recruits, and it wasn't working for multiple reasons. But I had the conviction it could be done.
What are the various stages of this recruiting?
We started in April 2009, dealing with the LMH Group and LBCI. Given that I had been away for a few years, I first needed to review the vision. I conducted an in-depth analysis of the companies, trying to understand the ongoing practice. I identified the strengths and weaknesses, and made my recommendations and the road map to move forward.

Once approved, we started the implementation process with a timetable for deliverables.

One of our main objectives was to increase staff efficiency and reduce irregularities, so we worked on a key measure. This is why there was a series of layoffs last October. We had over 700 employees at the end of 2007: today the company stands at 520.

It was important as well, to work on cost reduction, introducing smart programming and reducing expenses without affecting quality. In some programs, we managed to cut production cost by 35 percent for the same level of quality.

But the decrease is in fact more important, because we also stopped the continuous 15 percent increase in production costs year-on-year that we had been suffering from. We worked on putting new rules and regulations in place internally and for dealing with third parties.

We are also developing a new organization plan with clear lines of responsibility, bringing in new blood in different fields as well as in key positions – head of HR, head of PAC, head of strategy, and so on. We are working on internal regulations, putting efforts into breaking the old habits and practices and by introducing a new culture and enhancing the way we work.

After careful analysis, we also revised a new salary scale, and last month Pierre announced it to the staff, which contradicts all the rumors that have been circulating. Back in September, we tried to explain that we were trying to make this company functional in the most effective way, for everybody's benefit. Many people were skeptical, for different reasons.

At the time, I couldn't promise anything that I wouldn't deliver, so I had to ask people to give me time and work with me hand-in-hand; they needed to own, somehow, the decisions to be taken. They did, so I thank them for their trust, help and cooperation.
What about the revamping of LBCI?
For a year-and-a-half, foreign companies had been working back and forth on this and it was going nowhere. In September, an internal team came up with a creative concept and LBCI started the process in January 2010. It started by changing the logo and the look of the station; presenters were removed, and changes were made to the news. But more is coming at different levels.
What are the deadlines?
For the restructuring, I needed a year and we are on target. As for the remaining work, it's an ongoing process.
Did you have carte blanche?
Pierre, as the CEO and the project owner, strongly believed that it should be done. The plan was presented to him for approval, and he fully trusted me in implementing it.
What are the financial targets of this restructuring?
All I can say is that we met them and did even better.
Some of these measures were highly unpopular. How do you feel about the reactions they generated?
Change is the not always pleasant, especially for people who live in a comfort zone. We tried to make all this happen smoothly. But maybe for some people it wasn't smooth enough, and they considered that I should have waited a couple of years and not a couple of months before starting implementation.

In my opinion, all reactions were normal, the positive and the negative ones. I personally tend to take into account only the constructive ones. It's more about action than reaction. What matters is to do what's in the best interest of the company and the people working in it, and I believe have done that.